Satisfy your every taste
Our History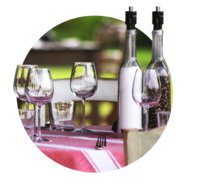 Juwuk Manis - Dolce Arancia - Sweet Orange
This is the meaning of the name of our restaurant. Juwuk Manis is Balinese for Sweet Orange, Juwuk Manis is an idyllic location among the ricefields of Jalan Kajeng right behind the Main Road of Ubud. And this is where Dolce Arancia was born, as it is here that my wife and I have opened our little boutique hotel called The Samara which features a romantic restaurant overlooking the ricefields: Dolce Arancia was the obvious name for the in-house restaurant.
Given the amazing feedback received from our guests, we've decided to bring our food to the very center of town. And in 2012 Dolce Arancia Ubud was a reality. Since then we have served all our guests with our heart, trying to make everybody taste the real flavour of the Italian traditional cuisine without accepting "tourist" compromises. We have done so with personality and passion, because this is our life, this is where our kids have grown up, and this is what we love.
If you like our cuisine please you let us know. If you don't like it please please please tell us immediately. We want you to have a great night out, we want to see our guests enjoy themselves.
Food is a very important thing for Italians, and you must eat well to live well.
We wish you a great meal at Dolce Arancia, and a great time in beautiful Ubud.